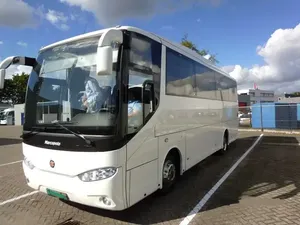 From small to high capacity buses, we transport people anywhere in Europe. Drivya offers coaches with drivers to help you get to where you need to.
Who Can Rent Our Chauffeur Driven Coaches?
Our services are geared to everyone from all walks of life: Business leaders, employers, teachers, students, individuals, tourists, sportsmen' anyone. We tailor our service to your needs because in a sense, you are our boss. Whether you want to rent a bus with driver as a tourist or as a business person, we offer tailored solutions for every situation. Simply contact us using the form above and we will try our best to give you the best answer at the best price.
What's the Capacity of Our Coaches?
Customer requests are varied and as such, we have many different sized coaches which are outfitted with many diverse amenities to suit your every need. Whilst our smaller bus models seat up to 20 people, the average capacity buses hold between 30-60 people. We even have supersized buses that can seat 88 people comfortably. Of course we can mix and match the different sizes to suit your needs. We will ensure that your trips are coordinated so that everyone arrives to the destination at the same time.
The different capacities for our coaches are as follows:
20 seats
30 seats
40 seats
50 seats
60 seats
70 seats
88 seats
Our buses have many different and varied modern amenities including:
Air conditioning
Super comfortable seats
Audio visual equipment
Bathrooms
Fridge
Power sockets
Wi-Fi on some models
The amenities, capabilities, and equipment vary from country to country. If necessary, we also provide provision for disabled passengers including lift services and extra space for wheelchair bound passengers.
Where Can You Get to with Drivya?
Drivya gets you anywhere you want to go, both well-known destinations and places more off the beaten track. Among the popular destinations are the European amusement parks, museums, and go sightseeing. You can also use our services to get to and from the various airports or stations for your transfers. Using our services, all major European cities (Paris Brussels, London, Madrid, etc.) can be visited and we can provide travel to any number of passengers. If your destination is more out of the way, we will have no problem getting you there on time as well because we make it our business to ensure you always get the best service.
Below you will find a partial list giving you a glimpse of some of the paths you wish to tread. Simply give us your request and we will give you a comprehensive answer outlining your trip. We do everything we can to ensure you are completely satisfied and adapt your needs accordingly.
Touring
Want to explore and show off your city with your employees? Rent one of our buses with a tour guide and you can see the city from the safety of the bus. All your employees will be together so you won't need to worry about ordering taxis or taking public transportation. Discover some of the most beautiful places in Europe with Drivya.
Company Events
Do you or your company have to attend an event outside of the office? Ask us about the services that we can offer you. You can ensure that the staff will travel safely and will return safely even late into the night. There will be virtually no risk, no public transport shenanigans, or any other hold ups when you travel with a quality company. Be assured that the company employees will be driven by an experienced driver who really knows what they are doing.
Business Seminars
Do your employees have to travel to a seminar? Choose Drivya solutions for the best possible journey. With the different bus capacities on offer, we ensure the transport of your employees is comfortable and affordable. Once on board a beautifully outfitted coach, they will travel to the seminar. Of course the return journey will be performed by a completely professional driver as well (the same one if that's what you want) and they will be responsible for bringing all employees to the starting point. With the routing problem solved, your employees can focus fully on the content of the seminar.
Trips from Stations and Airports
Are you in a group and have a plane or train to catch? Simply contact us to get your bus with driver to your destination. Anyone who travels frequently understands that getting to and from the station can be a pain in the neck. With our company, you are guaranteed to never miss a train or flight. We pride ourselves on respecting your schedule to ensure you arrive at your place of departure with plenty of time to spare.
School Trips
Have something special planned for your school? Maybe a trip to a museum or amusement park? Get private coaches for an all in one solution to your travel issues. Whilst everyone travels in comfort, you can be assured of safety with seat belts for every single seat. We provide school trips in Belgium, Germany, Spain, or anywhere else in Europe. Don't hesitate to contact us for more information about the different destination we serve.
Sports Outings
Do you want to travel to a sporting event as a group? We offer many different coaches for any size group, be it 40, 50, 60, 70, or even 80 people we have a solution for you. Simply tell us how many people you have in your group and we will work out the best solution at the best price for you. You journey to the stadium and let the atmosphere within you the group build. You will start feeling that you are at the event from the very beginning of the journey. And when it finishes you will be able to return home with your friends and mull over what you have seen without worrying about the actual journey. Save yourself the time and get yourself an experience for life with Drivya.
Get the Best out of a Team Improvement Trip with Our Coaches
Our coach hire with driver is an excellent way to treat your employees and other professional relationships when the need arises. You can take care of all the employees by giving them an address for all their travel needs. Take a team building day for example. You want to foster a true family like atmosphere within the company. What better way is there to do so than starting out on the right foot. By using Drivya you will be guaranteed a bus that fits your needs exactly. Even if the company is very large, we have a solution for you and ensure that everyone arrives at the allotted destination on time.
6 Good Reasons to Travel with Drivya?
Comfort
Surely you have experienced cramped and uncomfortable bus and coach journeys before. However, with Drivya this simply isn't the case. We care about you too much! All the coaches that we use are up to date and are as comfortable as modern coaches can be. We aim to give you enjoyable transportation for every single member of your group.
Safety
Our buses conform to the highest safety measures and each vehicle goes through rigorous safety checks before each journey that we undertake. Moreover, all our coaches are equipped with seat belts. Thus both outside and in, we are committed to ensuring your safety at all times.
Our Drivers
We are proud of our drivers. Every single one is thoroughly vetted before they begin working for us. Their professionalism is unsurpassed and they are punctual, serious, competent and most of all patient and understanding to the needs of the passengers. They are courteous and discrete whenever the need arises. This gives you complete control of where you want to visit, when you want to visit it.
Journey with Confidence
By using one our private coach drivers you can travel safely with the knowledge that you don't have to worry about the route, the schedule or running out of gasoline... The driver is your point of call and will take care of everything travel related. They handle all the logistics and ensure you are not late to your destination, leaving you to enjoy the scenery and fantastic views that you can experience throughout Europe.
Flexible Hours
By travelling with a Drivya coach with driver you are not subject to the constraints of public transport or even helpful friends. Day or night, sun or rain, strikes, anything else that is thrown up but the vagaries of life, your driver is always there for you. You will get a private and quite ride and get there on time.
Friendliness of Travel
Travelling by bus has one distinct advantage, creating a real atmosphere of friendliness throughout the whole group. Both young and old will enjoy this mode of travel that garners a great atmosphere as well as giving the passengers great views that can be used to break the ice if needed.
Prices to Suit Your Needs
The prices and rates offered by Drivya are highly competitive and we aim to always provide the best solution at the best price for you. Feel free to contact us for a no obligation quote that we are sure you will be happy with. We aim to give you truly complete quotes within few hours. Contact us now to ensure you get the best possible prices.
With over 15 years of experience in the coach hire with driver, Drivya is at your address for all your transport needs. We strive to bring you customised solutions for whatever you may require. If you need something smaller as we can offer you minibuses for smaller groups under 20 people and private car hire if you are smaller than that.