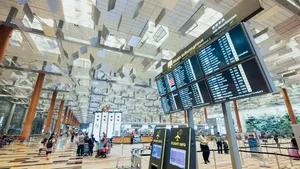 Traveling abroad? Bags packed, hotel booked, everything ready. Yet the stress doesn't seem to depart. You know that you have to go through the trauma of travel. It's not just about fitting everything into your suitcase, it's the whole experience. Unless you are flying business or first class, the seats are not that comfortable, there isn't enough legroom, and if you have large shoulders you will not be able to fit into your seat comfortably. And then when you get through to the other side you have to contend with getting to your next destination.
We are here to help you get through that barrier and make the transition easy with our airport car service.
 What Could Possibly Go Wrong?
Below you will find some common problems that happen when you travel abroad. Using our airport transfer service we can give you our personal guarantee that these won't happen.
Starting Your Journey on the Wrong Foot
Whether you are a regular traveller or only go on a plane once every couple of years, travelling to the airport isn't the simplest thing in the world. It's so easy to take a wrong turn and before you have even got to the airport you are miles off course. Not great when you have a plane to catch. And if you have to make a transfer from one terminal to another it can be a nightmare. That's why our airport transfer service is so helpful.
Having Room for Your Luggage
If you are just going for a short jaunt across to the continent and hardly have any luggage, then you don't have to lug around a large suitcase. However, if you are travelling for a longer period or with a larger party than just yourself you simply do not have enough space in your car for all that luggage. With our airport car service, we will ensure that you have enough space for all your luggage and yourselves to sit comfortably. If you use our airport executive cars you can travel not only with enough room but also in style.
Safety First
If you are travelling with little ones you need to ensure that they are completely safe. Taking a regular taxi is unfortunately not so. You need to have a baby seated on your lap which isn't really allowed, yet people still do it. Through the booking process we ensure you get exactly what you need.
Having Someone Wait for You
Have you ever got off the plane in a foreign country with no more information other than the address of the hotel you are staying at? It is such a common occurrence that the question is almost rhetorical. It's annoying, it's frustrating, and it's very difficult to deal with after a flight. With our service, we can guarantee that this will not happen. Your assigned driver will be waiting for you with a placard with your name on it (spelt correctly!) and you will have only a short walk to get to the vehicle.
Starting Your Holiday on the Right Foot
You want your holiday to be just that: a holiday. If your transportation isn't taken care of it can be a nightmare. We are here to provide a complete solution to your trip to ensure you have the best possible holiday. This allows you to start enjoying your hard earned break from the moment you step out of your house into one of our airport cars.
Being Tired
The entire route, from your home to your holiday destination isn't the most pleasant experience. There are so many things that can go wrong and even if they don't, it can still be a traumatic experience. Dealing with everything from traffic, luggage, seat problems, or anything else is hugely tiring. Let us take care of your airport transfers so you can actually enjoy the entire experience.
What You Get with Drivya
Peace of Mind
With our service, you will be looked after completely as we take care of all your travel arrangements in any country of your choice.
Any Location Even Multiple Countries
What makes our service unique is that we have contacts all over the globe and this means that we can be your point of contact for any airport transfer you have.
Knowledge of the Area
Not only are we the single point of contact, we are also the encyclopaedia of knowledge during your stay. Wherever you are, whatever country you find yourself in, we have a driver ready and waiting for you. He can guide you and take you to wherever you want to go, be it the more popular places such as the Louvre, or the tiny maritime village of Etretat.
Completely Courteous Drivers
We take pride in our drivers and they take pride in you. It is not enough to say please and thank you, it's how you say it, and our drivers will "say it with a smile."
We Speak Your Language
When you visit a foreign country, one of the trickiest things that you have to deal with is the language. It's not nice trying to ask for a coffee and feeling like a complete idiot! At Drivya not only with your driver speak to language of the land but they will be able to converse in your language too. We always try our best to put you at ease, and this is just one way of making it easier for you. In fact, we are sure that once you get to know your driver a bit more he can act as your translator!
Any Type of Vehicle, Any Type of Group
Whilst we cannot give you a complete guarantee in cast iron terms that you will get the vehicle you want, we do our best to ensure it happens. What we can guarantee is that you will be happy with the vehicle and driver you are presented with. It will have ample space for both you and your luggage as well as being completely clean and up to date. This is our airport executive car service promise.
Great for a Conference
In the world that we live in today many businesspeople have to go around the country and Europe for meetings, conferences, and events. You often need to arrive in style in order to set the right impression. Not only this but you also may have numerous stop offs; from your house to the airport and from the airport to the conference. We can provide a car with driver for both sides of the trip. You'll get four separate cars with just one phone call. This is our speciality and we take pride in being the one stop solution for you.
Airport to Airport Transfers
If you have to make a stopover in any location before your next flight and have to travel to a different airport you can use our airport to airport transfer service that is quick, easy, and efficient. In fact, if you have a bit of time in between flights we can take you somewhere nice where you can get a quick glimpse of the town you are stopping over in. Our drivers are not just an airport shuttle service; they are there to serve you and make you happy.
In Summary
There are so many reasons to hire with Drivya. We have been in the market for 20+ years and have thousands of satisfied customers who keep coming back. From safety to ease of use we are here to give you the best ride possible. Looking forward to hearing from you.