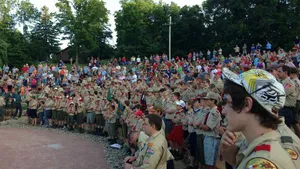 Are you a scout leader and thinking about your summer camp, field trip, or any other excursion with your scouts? It's not just finding the perfect place for your young charges but it's also the logistics. This can often be a complete nightmare. Let us be your helping hand as we have great experience in scout summer camps and are full of ideas to really help you get the most out of your scout trip.
Why Should You Hire a Minibus or Coach for Your Scouts?
There are quite of number of different reasons why hiring transportation for your scouts is a good idea and we will detail them below. However, the main reason from which everything stems from is that of ease. We take away your worry, your stress, and the time consuming nature of working out your travel logistics.
This is our speciality so you can concentrate on having a great time.
10 Reasons Why Hiring Transportation for Scout Travel Is an Excellent Idea
Getting the Right Permits
Did you know that in order to drive a minibus or coach for a scouting activity you need a permit? If you want to drive your scouts (which is defined as a voluntary group,) you must have a small bus permit for a private minibus and a large bus permit for a coach. Getting these permits is a time consuming activity which you won't want to concentrate on. Like almost all scout leaders, you probably have a full time job. Doing anything that isn't directly related to your scouts when it could easily be done by Drivya is simply a waste of time.
Safety
By law, every seat must have a seatbelt if you are leading a scouting trip somewhere. Moreover, one main goal of the scouting movement is to ensure that your charges learn to lead their lives safely, without cutting corners. Wouldn't it be a shame if you put what you think is a money saving move over the safety of your scouts. Every single one of our vehicles is fitted with the required seat belts and these are checked regularly to ensure the scout travel under your watch is safe.
Space for Luggage

One of the most difficult logistical tasks facing scout leaders is where to put everything you need take for the trip. Apart from all the suitcases or heavy backpacks that each person will bring you have to have room for the food, camping equipment, and everything else that you may need to bring along. With collaboration with us we will provide you with a complete solution. We can remove unneeded seats, attach a trailer, provide coaches with extra-large luggage space, or work out another solution that suits you. Remember that travel is our speciality, we've been doing it for years and can guarantee that you will be happy with our service.
Flexibility for Number of Passengers

It doesn't make a difference how many people you have coming with on the trip, we have a solution for you! Whether it be a small group of under 10 or even very large groups we have the vehicle to suit your needs. Our scout minibuses can seat small groups and we can even remove some of the seats to ensure you get all the luggage in without the need of a trailer. We can even provide extra-large coaches that have 88 seats.
Insurance

"Every scout group must provide adequate cover to property and equipment that includes the risk of loss or damage to equipment whilst in transit." These are rules for scouting expeditions and of course, all the more so for the scouts themselves. Arranging this kind of insurance for once off trips is a time consuming and often completely thankless task. At Drivya, as we have been doing scouting trips for so many years, we know the ins and outs of the insurance system that you need and can provide you will fully insured vehicles according to all your requirements.
No getting Lost, Understanding the Lay of the Land
One of the great adventures of being a scout is going somewhere off the beaten track and really getting to know the land. That's great and we understand this. However, if you are going to such a place you need to know how to get there with your group. Once hiking, you can make your own path, but you cannot do so with a coach and the route has to be planned in advance. For this reason, it's important to have a drivers input to determine if the place you want to get to is a viable option. Contact us and we can help advise you on where you should go with the minimum of fuss. After all, you don't want to get stuck in the mud before you've even arrived at your stop off place!
Maintenance
When you hire a self-drive minibus do you know with complete certainty that the oil level is OK, the engine has been looked after and that everything is as it should. After all, there is truth in the thought that hire cars are not treated very well by the hirers. We really do our best to ensure that all vehicles you hire through us are thoroughly maintained to the highest standards.
Driver Quality
When you drive yourself, you are often preoccupied with the other details of the trip, tired from the packing and preparation that you have had to do beforehand and not really in the mood of driving. By using Drivya for your scout travel, you are ensuring that you have a great driver, who, as we have already said is knowledgeable of the route. But it's not only that; a professional driver really knows how to drive and gives you the most comfortable experience. This is especially true of the drivers we use who are consummate professionals. We always try to provide the best drivers for your travel.
Relax on the Journey
It's hectic getting ready for a scout trip and you want to ensure it is great from the moment the scouts arrive at the pickup point. By you being able to concentrate on them, you are really showing your care. Moreover, along the way you can point out various points of interest and gel with your young charges. By using our service. you really can do this!
Cost
Perhaps you think that hiring a minibus with driver is very expensive. You have to do so if you have a large group and need a coach, but for a small group? Isn't that just a waste of money? First of all, we think you will be pleasantly surprised by how much it will actually cost. This is especially true if you factor in all the additional costs you have to pay such as fuel, insurance, and other costs. Moreover, can you really put a price on a great time? You deserve it as much as your scouts!
Common Questions about Scout Travel
You may think that driving you scouts around in your own car and/or with other parents and volunteers to be a great idea. "It will save us money that we can use for the actual trip!" is a quote that we often hear. However, there are quite a few issues that arise when driving personal vehicle's for scout travel. Below you will find listed a number of questions that we have been asked and in order for you to make a more informed decision we have outlined them below.
Do I Need to Declare That I Am Driving for Scouting?
If you have two uses for your car, business use and private use you need to declare the mileage for the scout trip as part of your own usage of the car. It is not classified as business use. Even if you are being paid to drive your car, you still cannot declare it as business usage. In fact, most insurance companies require you to declare if you are going to be driving for volunteer purposes.
Who Insures Any Attachments to My Vehicle?
In general, even if the actual attachment belongs to the scout group, if it is attached to your car, it is your responsibility. Moreover, don't think that it will be doubly insured by both your insurance and the scouts one. This rarely, if never happens with insurers.
What about My No Claims Bonus?
If you have an accident that needs to be claimed off the insurance, you will lose it. There is provision in the scouting world (Scout Insurance Services) that can come to your assistance in various claims and it is worthwhile checking with them before your trip.
Planning Your Beavers Trip
Are you planning a beaver's trip? There are normally two trips per year and you want to ensure that you are fully prepared for every eventuality. Letting a 6-year-old go away for a few nights can be distressing for the parents as well as concerning for a Beaver's leader. It is a huge responsibility having to look after all those little children. We can help you plan the logistics of your trip. You are encouraged to take your charges off the beaten track and really broaden their horizons. Get in touch with us and we can help you not only plan and work out what kind of vehicles you need but also give you valuable information about where you are planning on going. We have many drivers that know the different parts of the country and we can give you tips and advice about where you should go.
Taking Your Cubs Somewhere Nice?
Have you ever thought about taking your cubs to a theme or adventure park? They are great fun, especially for the Cubs year group. Parking with numerous cars in the often waterlogged carpark isn't clever. I'm sure you've seen pictures of cars getting stuck after one of the torrential downpours not uncommon to our shores. Have you ever walked through the car park and been jealous of those big coaches parked right by the entrance? Well now you no longer have to be. With Drivya you can order a coach for your cub trip with the minimum of fuss and get a complete, almost chauffeur type service for your group.
Explorers Is the Name - Adventure Is the Game!
Are you feeling adventurous? You get numerous opportunities throughout the year to take your Explorers wherever they need to go in order to get their badges. Whilst the Naturalist Activity Badge is not so difficult for most Explorers to get, the skiing, snowboarding, and caving activity ones are more so, especially in the UK. We can help advise on where you can go safely in order to get these badges as well as providing transportation for your entire group. Get in touch today and we are sure you will not be disappointed.
Scouting Jamborees
One of the most looked forward events for every scout are the scouting Jamborees. They are truly amazing experiences for both scouts and everyone who goes along to one of the most amazing events of the scouting calendar. Let us help you get all your scouts there safely, in whatever country it is. Let's say it's in Belgium. We can take your scouts to the airport, ferry port, or other point of departure and pick you up on the other side. We have an extensive network and we can take you anywhere you need to go in Europe and in most places around the world. You will have just one point of contact instead of trying to organise your logistics through multiple channels. Our experience is your assurance of complete professionalism thus leading you to a relaxed transition from your place of departure all the way to your destination.
Drivya, Fully Customised for You!
We know that everyone's life is unique. We therefore strive to give you a unique and fully customised quote to suite your needs. Simply tell us what you need and we will do our best to satisfy your needs.
Hire with Drivya!
By choosing Drivya you are getting the complete travel package. You won't get lost, you can really enjoy yourself and be at one with your trip. We take care of the travel and you enjoy the ride, the scenery, the atmosphere, and everything else that you want.