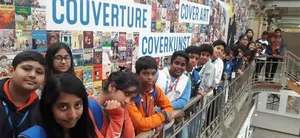 Are you planning a trip for your school and want a complete service? You have come to the right place. Here at Drivya, we have an extensive network all over Europe so we can provide you with completely seamless transportation anywhere you want to go. We are competitively priced and have been providing complete service for over 20 years. Read on for some trip ideas or get in touch now for a no-obligation quote that we are sure you will be happy with.
Why Hire a School Coach with Drivya?
Let's take the following prospective question we received.
I have been asked to organise the school residential trip to sample life in french speaking countries. What do you think you can do for us?
OK, does this mean you wish to travel from England to France and Belgium whilst sampling the culture?
Yes
How many people are there in your group?
35
How long is your trip and how many days do you need to spend in each of the countries? Our trip is going to be 7 days including day of departure and return. We wish to really get a good idea of the country, the culture, and the language.
That won't be a problem
So what do we do? We continue the conversation by asking such questions as, what the interests are? do you have any particular places that you really want to visit? We get a feel of what you are after and then we come up with a basic itinerary which takes into account your age group, budget, and other finer details. This itinerary obviously can be altered as needed. You can view a sample of a school residential trip below.
What Are the Type of Trips We Provide?
Of course we don't just offer coach trips abroad. We have a variety of different services to suit any trip for your school. They include the following:
Getting to School on Time
Have you ever had to wait for the school bus to arrive to take your children to school? And then it is a new driver who doesn't really know the way to get there. It is annoying for you as want your children to leave and arrive on time and unsettling for the children. This happens because when you work with small private companies if one regular driver calls in sick there isn't always one available straight away to deal with the shortfall. This being the case you are left with a driver who doesn't know the way, doesn't know the route, and doesn't have any rapport with the children. Who doesn't love a pleasant driver who says good morning to the children, doesn't mind to have music on that children appreciate and is well mannered? With Drivya you will get a complete solution where we go the extra mile to ensure the children get to school on time. We work with large companies so there will always be a school coach available even if the regular driver is not.
Sports Event
From the youngest school children to the end of high school there is almost always a sports day. Whilst the students look forward to seeing who really can run the 100 metres the fastest you have to organise the travel of often 100's of children, their kit, drinks, food, and most importantly - the trophies. With Drivya school coach hire there is no limit to the number of people we can take. In fact, our record is more than 6,000! We can also arrange large cool boxes with which to keep your drinks for the competitors. Contact us today for an (almost) instant quote.
School Field Trips
Getting out and about and really experiencing the country leads to raising standards in your pupils. As the "Learning Outside the Classroom Manifesto" states:
The potential for learning is maximised if we use the powerful combination of physical, visual and naturalistic ways of learning as well as our linguistic and mathematical intelligence.
Getting outside the classroom then with school coach hire is not merely a reward for good behaviour, a treat, or a way for other teachers to let their hair down; it is part of the essence of learning. You want to maximise what the children in your care learn about the world and you can only do this with field trips. But that is only on the trip itself, not the journey. You want that to be as uneventful as possible and that is where we come in. Completely professional, prompt, and easy to deal with, we are there for you. So contact us to get to trips to the theatre, visit to museums, or seeing the great outdoors. We are sure we can provide you with a complete solution.
Residential Trips Abroad
This is our school coach hire speciality. We work with companies across Europe to give you a complete solution for your trip. We are the single point of contact so you don't have to deal with anything extra, be it the language, hundreds of phone calls or any of the miscommunication that often besets school trip abroad. We speak your language but we also speak theirs and this, allied with our experience, we are sure you will be happy with our service. We can get you from your school to the airport, pick you up on the other side with another of our agents, and change them as necessary from country to country. You may think of this as a logistical nightmare but we see it as a puzzle to solve- and we love puzzles!
What Amenities Are Our Coaches Equipped With?
Whilst many companies provide standard amenities such as seatbelts as standard and toilets as an option, as we have such a large network of operators we can fulfil any request. These can include:
Power sockets so you can plug in your laptop, phones and other electrical equipment.
Climate control so whatever the weather you will be comfortable inside.
WiFi in order to access the internet.
Disabled access if needed we can provide a lift and extra space for disabled passengers.
DVD, CD/MP3 capability so the children can watch and listen on the journey.
Hot and cold water if requested.
Extra luggage space for long journeys (coach only!).
Just get in touch with your requirements and we will do our best to fulfil them. Please bear in mind that whilst many of these options are listed, they are not as standard. Let us know what your needs are and we will do our best to provide you with exactly what you need.
Are Our Drivers Certified?
Every one of our drivers has certification for the country they are driving in. Many countries have different rules regarding the qualifications of a school coach driver and we ensure our drivers are fully covered.
What Is the Capacity of Our School Coaches?
We have a variety of different capacities that we can offer. These range from minibuses for eight people to extra-large coaches for 88. Once you have contacted us we will be able to advise on the best choice for you. Sometimes it is better to order to a slightly larger coach so you can allow your charges to spread out more and converse more easily.
Do You Have Any Example Trips?
Have a look at the example below:
| Date | Itinerary |
| --- | --- |
| Day 1 | Departure and arrival in France. Visit D-Day Beaches and Landing Museum |
| Day 2 | Goats-cheese farm visit, Granite cliff-top walk and visit the Flers covered market |
| Day 3 | Visit the Parc naturel regional du Perche |
| Day 4 | Visit to the Agincourt Battlefield |
| Day 5 | Guided tour of Paris including: Place de la Concorde; Champs-Elysées; Arc de Triomphe; Hôtel des Invalides; Eiffel Tower |
| Day 6 | Abseiling and Zip Wire trip |
| Day 7 | Free time and return home |
Contact us today for a more personalised trip and we will help you decide where you want to go.
Get School Coach Hire with Drivya!
By choosing Drivya you are getting the complete travel package. Not only will you be selecting experience but also skill and expertise. We act as your single point of reference and organise every aspect of your trip.