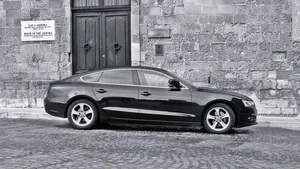 Want to travel in style? Whether you are looking for an executive chauffeur, private car hire with a driver for a day or any other way of getting around, contact Drivya for a truly personalised experience that will really encapsulate everything you want in your trip.
What Do You Get with Chauffeur Driven Car Hire?
Perhaps the pertinent question is what you actually get when driving yourself in a hire car? Let's take a regular business trip in a capital city you don't know. You don't really know your way around, you don't really know the language, but you hire a rental car with a GPS so you won't get lost, or so you think. However, we know what normally happens, you get lost, you can't recalculate the route, you ask for directions but don't really know what they are saying, you get tired and irritable because you have to drive and drive. The problems go on and on. And what you get with a chauffeur driven car is none of that. But enough about the negative, let's get to the positives of getting chauffeur car hire:
10 Great Reasons to Get Private Car Hire with Driver from Drivya!
Comfort
When you get chauffeur car hire, what do you want? Obviously it is to get from A to B but you can do that many other ways. What you really want is the comfort and prestige getting someone else to drive you around. With our chauffeur driven car hire you travel in complete comfort. Whether you select a Mercedes, Audi or Volvo you will sit comfortably, and at the right temperature for you. Be it the heat in the winter or air conditioning in the summer, we have the right solution for you. Your comfort is our business and we will do everything in our power to ensure you get it.
Driver Quality
Have you ever taken a taxi? It's almost a rhetorical question nowadays but perhaps more pertinently the question is, "How many times have you been in a car with a driver who drives too fast, too slow, too jerky, and in general someone who just makes you want to get out the car and walk, even if you are still miles away?" With Drivya's chauffeur car hire we ensure all our drivers are consummate professionals. All drivers are qualified and have a private hire vehicle driver's license. This isn't just a label, it is a badge of honour telling the passenger that they are safe and sound in the car as the driver has a better standard of qualification than the basic driver test. At Drivya we go one step further, we ensure that all the companies we use as providers are experts in their field. Whilst these companies don't give their drivers the notorious "the knowledge" test we do ensure they really know how to drive safely, within the speed limit, and smoothly. This is in order to give you the chance to do whatever you want in the car. Many of our existing clients want to be able to get on with some work whilst they are travelling and we have to facilitate this. You cannot work whilst being jerked around and that is why we go the extra mile.
Peace of Mind
Being able to leave when you want and arriving at your destination on time is important. It is also important to us as we know that if you have an important meeting you have to arrive on time not only because you have to but also to create a good impression with the client. Hiring a chauffeur driven car with Drivya gives you that peace of mind. You can relax in the knowledge of our experience, knowing that you will arrive at your destination on time. Of course, along with this you will be travelling in complete comfort which adds to this peace of mind. Arrive at your meeting in the optimal, calm state that travelling with Drivya affords.
No Getting Lost
Getting around foreign countries can be difficult, getting around city centres can be a nightmare. Getting lost is just half the problem because you often have to contend with roadworks, one way systems, and other such complications that can make your life hell. You won't get lost with our chauffeur driven car hire. They are equipped with GPS as standard and along with the local knowledge of the roads that are drivers have you can be sure that you will not get lost in any of our chauffeur driven cars.
Freedom to Have Fun
How many times have you gone out with family and friends and had to worry about drinking too much. The levels of intoxication are very low for you to be over the limit. Even one glass of wine is often enough to put you over the limit. Whilst no one is denying that this law is important and saves lives, you still want to be able to join in the fun if you are driving. With our private car hire with driver you have the freedom to drink however much you want without having to worry about driving home. We will take you right to the front door so you can really concentrate on having a great time.
Arriving on Time
Everyone wants to arrive on time and that is why at Drivya we go to all lengths to ensure you get picked up and arrive to your destination on time. We know how important it is to not be kept waiting when you finish that meeting and for this reason when you book an executive chauffeur or any other of our drivers you will receive the name and GSM of your driver 24 hours before your trip. This enables you to keep tabs on your driver and know where they are whenever you need them. As well as this we try as much as possible to hand pick the drivers so that they are from the same area as you are travelling in. This gives them inside information on the roads and ensures you arrive on time to your destination.
Not Having to Find a Parking Space
Just finding where you need to get to is frequently only half the battle. Parking spaces in many city centres in Europe are often few and far between. Let Drivya be your valet and ensure you can always step right into your meeting, restaurant or other engagement!
Flexibility
Travelling around any country to various appointments or meetings often means that you need flexibility. Many think that for this reason it is worthwhile to hire a car personally and do the driving yourself. However, car hire with a personal driver from Drivya can give you complete flexibility. You driver with be personal to you throughout the duration of your trip and you have the drivers GSM so you'll be able to check where they are. Whilst you should do your best to ensure that your driver knows your timetable, we understand that you have to be flexible and therefore give you enough wiggle room to change your schedule and travel arrangements as needed.
Privacy
Whether you are on holiday or away for business, there are sometimes sensitive meetings or events that need privacy. At Drivya we have a policy of customer confidentiality where our drivers are not allowed to speak about who they have taken and where they have taken them too. High level meetings sometimes need to be held without anyone finding out about them and we ensure that from our end at least the seal is watertight.
Work Whilst on Route
When travelling on Europe for business you want to be able to take advantage of every single minute. To this end why not work whilst you travel. Our drivers are super smooth so you won't get jerked around. In fact, if you really want to ensure that you can use every minute we have a customised minibus that isn't really a minibus. It has been completely outfitted with large seats, desks with sockets, and has been turned into a mobile office.
What Makes Drivya Chauffeurs so Unique?
We are very proud of our drivers and the reason is simple: They are very good. There are two main categories that you want in a driver: driving ability and driver personability.
Chauffeur Driver Skills
When you are a passenger you want a smooth ride; a driver who doesn't go above the speed limit but doesn't drive too slowly; and a driver who knows where they are going. All of our drivers are vetted to ensure that they fulfil these requirements. Having a nice car doesn't make you a good driver. The two things are independent of each other and we at Drivya recognise this therefore giving you not just a luxurious ride but also a completely relaxing one.
Knowing Your Driver
Part of our success is knowing what you really want. Because we know your itinerary we know why you are in the country. This helps us select a driver that is suited to you. For example, if you are in Europe for a holiday you may want a pseudo guide to get the inside story of the places you want to visit. And if your trip is work related you may want to know where you can go to a nice meal with your client. As well as this are drivers are instructed to try and understand if you are in a chatty mood or not. Whilst they are conversational, they also understand, by virtue of their experience, that there are times when you want to be left with your own thoughts. They are sensitive to this and try their best to give you exactly what you are after on your trip.
Safety First
Each driver's car is their baby and that's why the cars are regularly maintained and subject to careful checks before every journey. This gives you both comfort and safety. We do our best to ensure that the quality of the interior and the comfort levels are unsurpassed so you can sit and rest in complete comfort wherever your travels take you.
Drivya, 100% Customised for You
Every single offer that we give you is customised and based on your needs. Everyone's timetable and needs are unique. That's why we ensure that your quote is tailored to you. Simply tell us what you need and we will do our best to satisfy your needs. We are available 24/7, any time of the day or night. From business meetings to airport pickups and social events, luxury limousine service, we can help you make your trip as smooth as possible.
Relax with Drivya
By choosing Drivya you are selecting relaxation. Enjoy your trip, don't worry about the route, the constraints of driving or anything else. We take care of the travel and you enjoy the ride, the scenery, the atmosphere, and everything that Europe offers you.