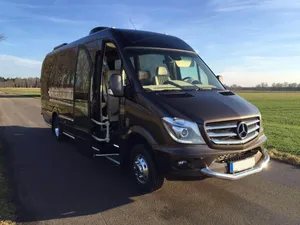 Do you need minibus hire with a personalised driver to get around? Are you a school teacher, head of a large family, or someone who needs a mid-sized vehicle to transport your crew? Renting a minibus is easy with Drivya and we offer many different sizes to suit your needs. Book today to take advantage of everything that hiring a minibus with Drivya affords!
What Makes Drivya Minibuses so Unique?
Regularly maintained and subject to careful checks before every journey, every vehicle that we provide is in perfect condition. This is to ensure that your safety and comfort. We do our best to ensure that the quality of the interior and the comfort levels are unsurpassed so you can sit and rest in complete comfort wherever your travels take you. We are not like other companies that just ensure that their minibuses go, we go the extra mile to give you the travel experience that you really deserve.
On top of the quality of the upholstery and smoothness of the engine, we keep our focus on you the whole time. Bringing your own drinks on a long trip is a pain in the neck, they are heavy and they don't stay cold. This is why we make sure we have cold drinks on hand for your convenience. This is especially true during the summer months after you return from an outing or trip. This provision is obviously not only for those on family trips but also for any business related activity as well.
How Many People Can We Fit in Our Minibuses?
We are completely versatile to your needs and as such, we offer minibuses from seven seaters to larger ones seating 20. Please remember to book as soon as you can so we can ensure you get exactly the right vehicle for your needs. We also offer the opportunity to hire more than one minibus so you can travel in convoy if you wish. If you prefer, you can travel by coach if you are a large party.
Here are the number of people we can accommodate in the minibus section of Drivya*:
7 seater MPV
8 seater minibus
9 seater minibus
10 seater minibus
11 seater minibus
2 seater minibus
15 seater minibus
20 seater minibus
*Depending on the availability.
What Are Some of the Trips You Can Do with a Minibus with Driver?
Take a look at some of the different options we typically provide to our clients. These are just a sample and if you want something more specific and personalised feel free to contact us where we are sure we can accommodate your needs. Some examples are:
Discover London
There are so many places and sites to see in London. Starting from the centre you can take a look at the river Thames from the iconic London eye. Get off and go to the Aquarium just round the corner from there. Continue your tour by going and (hopefully) seeing the queen in Buckingham palace and stopping off at the gargantuan British Museum to see the Rosetta stone and other great works of art. This is just a glimpse of what you can visit in London and if you want, we can provide you a personalised guide, speaking your language to ensure you get the most out of your trip. What makes travelling around London with Drivya unique is that it is like travelling around your home city personally just without any of the hassle of finding a parking space, worrying about the amount of petrol you need and the myriad other worries that come along with having your own car in a busy city.
Discover Paris
So many sites, so many things to see and experience and often nowhere near enough time to see it all. You want to see the Louvre, the Eiffel Tower, the Arc de Triomphe, the Montmartre, the Musée d'Orsay as well as the beautiful Jardin du Luxembourg. This is just a sampling of the amazing sights that you easily miss out on if you don't plan ahead with your travel arrangements. Getting around Paris can be a complete nightmare if you don't know how to deal with the difficult traffic arrangements. It can completely ruin a holiday and that is what we at Drivya want to avoid. Your whole group can travel with one of our minibuses and in doing so you will not only get where you need to get to on time, but as the driver knows the area they will be able to provide you with the inside view.
Discover Belgium
There are so many places to see in Belgium. In fact, it's probably got more places to see per square mile than most other places on Earth. The self-proclaimed "capital of Europe" you can visit the Grand Place, Europe's beautiful medieval square lined with guild houses; chuckle at the Mannekin Pis; see the capital of cool in Antwerp; gander at Ghent, an unassuming, un-touristy city away from the bustling capital; and the historical city of Liege situated by the Meuse river. However, in Belgium, getting around can be difficult and that is why having an all-in-one solution gives you the maximum time and best experience. By using a Drivya organised minibus with driver you will be giving yourself and your group a great way to not only view the sites you want but also the view on the way from up high.
Get a Personalised Guide
At Drivya we don't view your holiday as a holiday for us. For many this is the most important time of the year where you get to relax and bond with your loved ones. We can provide you with a personalised guide who will accompany you on your journeys, point out the best sites as well as the best eateries. Get the most out of your trip with one of our minibus with drivers and a personalised guide.
Great for Business Travel
From time to time, every company needs to organise some kind of group outing or activity. This may be for your own employees or for your clients. Conferences, meetings, training seminars are all activities just waiting to get snagged on traffic problems. To ensure that you get the most out of the event hire one of our minibuses to ensure everyone arrives on time and in good spirits. There will be no transportation issues as we are your all-in-one solution to your travel needs. Get the most out of the event with Drivya.
School Travel
Schools have the privilege of looking after the next generation. At school there are many reasons for trips, from getting kids there in the morning and taking them home at night as well as the various trips to museums, monuments, and field trips. Of course there may also be various recreation trips to amusement parks, castles, forests amongst many other destinations that the school see as fit. Whatever kind of excursion organised by the school, we have the solution for you. Just get in touch with our dedicated team and we will be able to give you a perfect, personalised solution for a minibus with driver.
We know that the children in your care are your responsibility and to this end we ensure that the minibus with driver that you book is completely safe with three point seatbelts. Moreover, we thoroughly check all aspects of the engine, oil and water to ensure you get the smoothest ride imaginable.
Why Rent a Minibus for a Wedding?
Planning a wedding and have a lot of guests that you have to transport? At Drivya we can provide a comprehensive service for both the bride and groom and also the other wedding guests. Whilst the happy couple can travel in complete luxury with a limousine what about the bridesmaids and the close family. They should travel together and not have to worry about finding a parking space, making sure you have enough petrol etc. We have a large variety of minibuses to ensure all your needs are met and every single one of your guests arrives in luxury and on time. Let us transport your guests to the ceremony and we will wait for them and then whisk them off to the reception. Everyone can party into the night, consume what they want and not worry about being over the limit. We can then take everyone home whenever that will be.
Rent a Minibus for Your Social Event
Going out with your friends is good, going out safely is even more important. Don't hesitate to call us to see what we can offer you for an unforgettable evening. Your driver will pick you up and take you to your destination and you are armed with the flexibility that whether your group finish early or late you will have a minibus with driver waiting for you. Enjoy the party, enjoy the drinks, enjoy the atmosphere and DON'T worry about getting home, that's our problem but with our huge experience you can be sure that all will be taken care of.
Ready, Set, Go!
How many times have you or your team had to find parents who will ferry the team to the next match? For home fixtures it's not too difficult but for away ones it can be a nightmare! Not just having enough space for everyone but ensuring the drivers know where they need to get to, not getting lost and getting there on time. Not only is this stressful for the drivers but it doesn't lead to a great atmosphere in the changing rooms where you are trying to get the team together. Traveling by a minibus with driver is the perfect solution. You will get everyone travelling together and can build the atmosphere and camaraderie up for the big game. There are so many benefits to travelling together with a professional service: you'll get there on time, you won't get lost, you won't break down, and you can work on a game plan and formulate ideas together about the fixture.
Drivya, 100% Customised for You
Every single offer that we give you is customised and based on your needs. Everyone's timetable and needs are unique. That's why we ensure that your quote is tailored to you. Simply tell us what you need and we will do our best to satisfy your needs. We are available 24/7, any time of the day or night. From business meetings to airport pickups and social events, we can serve you with complete aplomb, confident in our ability to provide unrivalled service.
5 Great Reasons to Rent a Minibus with Drivya
Great Experience
We have close to 20 years' experience transporting people all over Europe. Over this time, we have built up an amazing clientele from businesspeople to A-listers, schools to universities and they keep on coming back. Why? Because experience means nothing unless you learn from it and that is what we are always doing to improve your experience.
Professional Drivers
All our drivers are qualified specifically for driving minibuses. They also have significant experience in the field and understand what driving a minibus entails. As well as this they know their way around the country you are situated in. This means that they will not get lost and don't need to rely solely on GPS (although of course all minibus drivers are outfitted with them). They are helpful, courteous, and show complete discretion to ensure complete confidentiality of you, our clients.
Passenger Safety
Safety is one of our pillars of operation and we take great care to ensure all our minibuses are regularly maintained. In fact, we know that most people don't check the basics before setting out. At Drivya however, we do, and we do it for you to make sure that your vehicle is in tip top shape. As well as this our drivers are fully respectful of the highway code and do not exceed the speed limit. Every passenger is asked to wear a seatbelt as standard so we, together with you are as safe as can be on your trip.
Adaptability
At Drivya, we work with various providers to ensure that we offer you exactly what you want. Be it schoolchildren, students, professionals, retirees, and everything in between, we have a solution for you. Our adaptability is one of the reasons we are so popular. Simply send us a request and we will have a comprehensive answer within few hours. We ensure that you have a driver who knows the area so you will get to your destination in the quickest possible time.
Competitive Rates
Having a personalised service means that we ensure you get a competitive price quote. We do not offer instant quotes because we feel that you are not just a number. You are an individual and deserve to be treated as such. You can request a quote online by completing the online form and we will provide you with a complete and comprehensive quote. This quote takes into account the exact requirements of your trip so you will know that you are getting a great deal.
Relax with Drivya
By choosing Drivya you are selecting relaxation. Enjoy your trip, don't worry about the route, the constraints of driving or anything else. We take care of the travel and you enjoy the ride, the scenery, the atmosphere, and everything that Europe offers you.