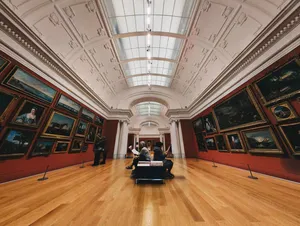 You won't forget where you left your car because you won't have it! We'll take you all the way to the front door and pick you up when you've had enough.
Are You Going on Holiday? Make Your Trip Easier by Hiring a Car with a Driver.
The Branly Museum, the Louvre, the British Museum, the Peggy Guggenheim Museum in Bilbao, the Pergamon Museum in Berlin, the Uffizi Gallery in Florence... so many spectacular European museums to visit! Are you planning a trip to discover these cultural gems? Have you thought about hiring a car with a driver to make your trip easier? Museums in France and in Europe, the Castles of the Loire Valley, the UNESCO list of world heritage sites... culture is even more accessible with a chauffeur-driven car.
Your driver will escort you throughout your trip. He can drive you from museum to museum, so you don't have to think about routes or parking. Much easier and more comfortable than public transport, this option allows you to visit wherever you desire.
Are You a Teacher Organising a Cultural School Trip?
A school trip allows discovery and learning in a fun and interesting way. Introduce your students to the major European museums by hiring a minibus or coach with a driver. We can take you to Spain, France, England, Italy, Belgium... and any European country of your choice.
Your students will be able to marvel at the Mona Lisa in Paris, discover the Rosetta Stone in London, be passionate about Italian art in Florence, or admire the view from the MuCEM Museum, which opened in Marseille in 2013. Choose your destination according to your educational project, and we will take care of the transport.
Drivya has 15 years' experience. We offer chauffeur-driven minibus, coach and car hire of different sizes and designs depending on your needs.