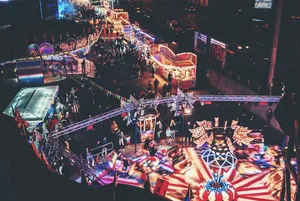 Take your family to any theme park in Europe and let yourself go. Don't worry about tiring yourself out, go, enjoy, and relax on the way home.
Are you planning a trip to one of Europe's many amusement parks? Whether you are traveling with friends or family, or organising a team building trip for your colleagues or employees, rent a car with a driver to make your travel easier.
Families, hire a car with a driver for the duration of your stay.
Whether you want to go to Port Aventura in Spain, Disneyland Paris or Europa Park in Germany, hiring a car with a driver makes your theme park trip a better experience all-round. Staying in Spain for a few days and dying to spend a day at Port Aventura? Or are you visiting Paris and want to go to Disneyland? Hiring a car with a driver allows you to access these theme parks easily from your holiday city. Your driver will pick you up from your hotel, take you to the theme park you have chosen, and drive you back at the end of the day.
Businesses, Hire a Vehicle with a Driver for Your Team Building Event
Europe has no less than 20 must-visit theme parks. Efteling in Holland, Tivoli Gardens and Legoland in Denmark, Port Aventura in Spain, Disneyland Resort, Asterix Park, Futuroscope, and Puy du Fou in France, Heide Park in Germany... why not arrange your next team building event at a theme park?
The fun atmosphere will encourage team bonding. Your employees can devote their time to leisure, and will come back to the office relaxed and more efficient. To make travelling to a Theme Park in France or Europe easier, make sure to rent a chauffeur-driven vehicle. We offer different models depending on the number of passengers. Minibus or coach, choose a comfortable and reliable mode of transport which suits you and your team.