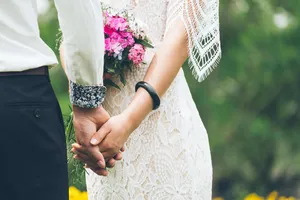 Planning a wedding? Congratulations! We can't wait to help you out to make that special day a day you'll never forget. Let us take care of all your wedding transportation needs to ensure your wedding day goes successfully. From the happy couple to the entire wedding guest list, we can cover all your wedding transportation needs.
Who Actually Needs Wedding Transportation?
Let's go through different VIP's of the wedding and see what they need:
Bride and Groom
They need to get to the ceremony separately but once they have tied the knot they need just one vehicle. So how many vehicles do they actually need? Two, one for the bride and another for the groom. Use our Mercedes wedding car hire to get the happy couple to the ceremony and then they can be whisked off in one of our wedding limos.
Best Man
The best man usually travels to the ceremony with the groom. In fact, it is normal for the best man himself to take the groom. However, with our Mercedes wedding car hire this is more easily arranged and can be sorted out with one phone call without anyone having to worry about whether the best mans car is a suitable choice.
Mother of the Bride
Depending on tradition and choice, the bride may decide to have her mother with her until the ceremony in which case she will travel in the bridal car. However, this doesn't always happen and it is often the place of the maid of honour who takes the bride with her. In this case we can arrange wedding chauffeur service with a separate car for the mother of the bride.
Maid of Honour and Bridesmaids
This is where you can get a bit funky if you want. With our wedding transport hire we can fulfil pretty much every kind of request. From Mercedes wedding car hire to something with more seats, a fancy minivan, or even a party coach. It's really up to you!
Everyone Else
Whilst providing a wedding chauffeur service is optional for your guests, you may find that in many situations it isn't so simple. If your wedding is out of town, you've got guests coming in from abroad, many of your guests don't drive, you don't want them to get lost. Any even if they know where to go and do drive, you want them to be able to enjoy the wine, champagne, and other alcoholic beverages. Therefore, providing wedding transportation is something that you really need to think about. Yes, your guests are grown-ups, but wouldn't it be nice for you to provide something for them as well. With Drivya's wedding transportation service we can cover all bases; from a wedding limo for the happy couple to extra-large coaches that can carry 88 as well as everything in between. It is really up to you. Just give us a call to ensure completely seamless wedding transportation for you and your guests.
Wedding Transport Hire Doesn't Need to Start on the Day
If you've got guests coming in from abroad and they need to be picked up from the airport we can arrange that for you too. Drivya is an all-inclusive service covering almost every country. What this means is that we can actually pick up your guests from their homes in whatever country that may be, take them to the airport, and pick them up on the other side. We have provision for any number of guests as our contact list is long and comprehensive. Then, on the day of the wedding we provide the requisite number of vehicles for everyone who needs, from the happy couple to the guests from overseas. And of course, whilst they are here, they may want to go sightseeing in which case we can provide them with an expert driver as well. So, wedding transport doesn't start on the day of the wedding, it starts before the day and continues even after the couple have gone on their honeymoon.
With Drivya you will be fully covered wherever you may be.
What about Our Driver's?
We are proud of our drivers and they take pride in their work. In fact, it happens often that the ceremony and the reception are far away from each other and there are beautiful views between the two destinations. It isn't uncommon for the couple to request a photo with the amazing natural backdrop on route. Our drivers may not be professional photographers but they do have experience of taking photos for other people and will gladly fulfil any such request.
Do You Really Need to Provide Wedding Transportation for Guests?
As a rule, there is no need to provide wedding transportation for guests. After all they are adults. But, we feel that it's often an expense that is really worth it. Your guests won't remember exactly what they ate and drank, however long you spent planning the menu. What they will remember though, is the care and attention that you have showered upon them. They will remember the wedding transportation that you provided for your guests, making each and every one of them feel special. So although you may not need to provide the wedding guest transportation, we feel that it's definitely worthwhile.
Get Wedding Guest Transportation to Reduce Stress!
Whilst you may not need to provide transportation for your guests, if they do ask you, you can't exactly say no. You don't and probably can't drive them yourself but you must have some kind of solution for them. This being the case, it's important to have someone to turn to. If you don't, then not only do you have an organisational problem but you also must deal with the intrinsic stress of the event that you simply cannot afford to have if you really want to enjoy the wedding. Weddings are such special events, once in a lifetime opportunities and it is a shame if the people cannot immerse themselves in the occasion. So let us take the wedding transportation stress away from you. Complete solutions for your wedding ensuring everyone "gets to the Church on time!"